Andrews and Modell shine at the championship final Asian Le Mans race at Sepang
Date posted on January 25, 2017 · Published by eurasiapr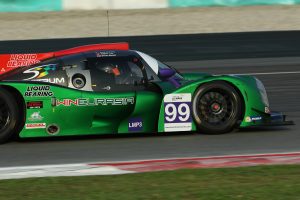 Eurasia Motorsport and the WINEURASIA team headed to the 2016/17 Asian Le Mans Series finale in Malaysia hopeful of a strong showing in the super-competitive LMP3 category. The 4H of Sepang (22 January, 2017) brought mixed results, with the team showing good pace but ultimately having to settle for fifth position.
The team adjusted its driver line-up for this event with Devon Modell drafted in to join race-regulars Scott Andrews and Williams Lok.
Andrews qualified the Eurasia Motorsport run WINEURASIA Ligier LMP3 second in class whilst Devon Modell in his first LMP3 event drove a great first stint to hand the car over in second place. Andrews was in lead mix for his stint whilst William Lok put in another good performance.
The team eventually finished in 5th place. "We were once again very impressed with Scott who demonstrated not only great pace but also good race craft. Devon took to LMP very well and drove a fine race in a car and circuit new to him. He is also a star in the making" declared Eurasia Team Principal Mark Goddard. "It was a good way to end our relationship with WIN. We now look forward to the Sprint Cup which starts in April."