Another Eurasia Motorsport graduate becomes an F1 race driver
Date posted on March 25, 2017 · Published by eurasiapr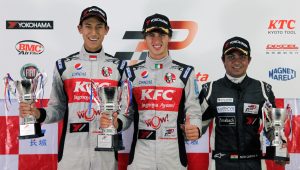 Antonio Giovinazzi, who began his racing career with Eurasia Motorsport, will join fellow Eurasia F1 graduate, Daniel Ricciardo, as a Formula One race driver in this weekend's Australian Grand Prix after being called up to race with the Sauber F1 Team.
Solid grounding and world class training is essential in the first year in the sport and it is no coincidence that Eurasia now have two F1 drivers who started with the Asian-based team.
"Any driver who races with us can be confident they are receiving the best possible coaching and training and we are extremely proud that another Eurasia Motorsport driver has become a Grand Prix driver," stated Team Principal Mark Goddard. "We also happy for Sean Gelael, who also started his career with us, will test with the Sauber F1 Team this year too.
"What all our junior drivers can take from this is, that if they are good enough after the grounding they have received from us, they have all the tools to take themselves to the very top. You never know, maybe one of our Formula Masters drivers from this year may be on the F1 grid in a few years' time…"