Date posted on January 22, 2017 · Published by eurasiapr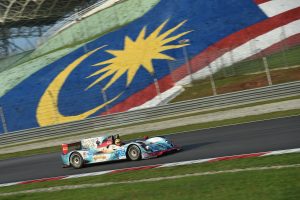 Eurasia Motorsport and Jackie Chan DC Racing dominated much of the Asian Le Mans Series and today (22 January, 2017) targeting a race finish to ensure that they wrapped up the championship. A clash at the first corner however ultimately put paid to the championship and shortly afterwards, the team were forced to retire the car.
Having just missed out on pole position by 0.008s on Saturday, the pressure was on the team and drivers Ho-Pin Tung, Gustavo Menezes and Thomas Laurent to race hard but also to ensure the finish that would guarantee them the title.
The start saw Ho-Pin Tung get a good jump on the #25 pole-sitter and #8 Race Performance entry. Entering the first turn the #8 took a dive for the lead and struck the championship leading Oreca, damaging the right rear corner of the #35 car. Ho-Pin Tung limped the car back to the pits where the crew set about replacing the rear body work and tyres before sending him back out.
With chances of the victory dashed and multiple laps down, the team hoped the car would make the finish, but soon afterwards, tell-tale blue smoke signalled a terminal engine failure.
"The #8 car ran into us, it's as simple as that," explained Team Principal Mark Goddard. "We didn't finish on a day when a finish would have given us the title. The engine failure was as a direct response to the very slow lap back to the pits after the first corner crash and this caused the cylinder head to fail and that's the engine done. This is hugely disappointing for us and for Jackie Chan DC Racing as we have had the speed all year and with one incident, the championship has slipped away."
With hopes dashed of ultimate glory, the battle for championship honours in LMP3 continued.  The objective for the #1 Jackie Chan DC Racing Ligier was clear; only a win here in Malaysia would clinch them the LMP3 championship.
James Winslow, David Cheng and Hiroki Yoshida partnered up again for the season finale, the former qualifying the car third position in class, less than three-tenths off of the pole position. Race day saw Cheng take the first stint before handing over to Yoshida. It proved to be a tight battle and with just 15 seconds covering the top three, the team had to settle for the final podium position.