Date posted on April 7, 2017 · Published by eurasiapr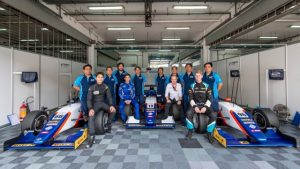 Eurasia Motorsport are gearing up for the new season in Formula Masters Asian Series, with three drivers aiming to emulate the success achieved by the team and Aidan Read, who notched up nine victories in the series.
The new championship gets underway this weekend (7-9 April, 2017) in Malaysia and Eurasia Motorsport are proud to announce that Kurt Hill, Isyraf Danish and Danial N Frost will be racing with the team.
Australian driver Hill enjoys backing from 'The Bedroom' and 'Commercial Freight' and most recently competed in the Skip Barber Championship in the US, securing podium positions on the way.
Danish is from Malaysia and raced in F4 South Eastern Asia Championship last year. He used his local knowledge to good effect, wining at Sepang and securing eight further podiums en-route to fourth position in the championship.
Frost hails from Singapore and also raced in F4 last season, recording seven wins and 11 further podiums. In fact, he matched the points tally of his new Eurasia Motorsport teammate Danish exactly with 317 points.
"Kurt has undertaken an intensive training program with us over the off-season and he has demonstrated great skill and determination," stated Team Principal Mark Goddard. "We are really looking forward to working with him this year and developing another race winning Australian driver.
"Danial in testing has shown great natural speed and fantastic car control. We are looking forward to a fantastic season with him, he is going to be quick. Danish has been very fast in testing with a smooth and fluid driving style. This will serve him well with the new compound GiTi tyres we have this year. We have a very strong driver line up this year."