Eurasia Motorsport claim Buriram pole in Asian Le Mans Series
Date posted on January 7, 2017 · Published by eurasiapr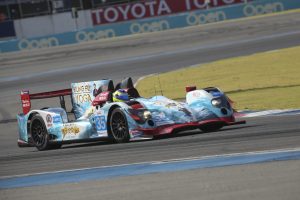 Eurasia Motorsport has enjoyed a great run so far in Buriram, claiming pole position this afternoon (7 January 2017) for the third round of the 2016/2017 Asian Le Mans Series in Thailand.
Running cars for both Jackie Chan DC Racing and WINEURASIA in LMP2 and LMP3 respectively, Ho-Pin Tung took qualifying honours today for the former as he set the initial pace and cemented the pole position by improving on his final flying lap in the #35 Jackie Chan DC Racing Oreca 03R Nissan.
"Ho-Pin did a great job for us today," explained Team Principal Mark Goddard. "To get the pole by six-tenths of a second is quite an achievement. We have a good race set up too, so we are quietly confident that we can have a good result on Sunday. We're leading the championship and that is always the ultimate goal…"
The Eurasia Motorsport supported WINEURASIA Ligier LMP3 qualified second in class with Scott Andrews driving, missing out on the top position by just over two-tenths of a second. The second Jackie Chan DC Racing entry was fourth in class with James Winslow behind the wheel.
The 4H of Buriram gets underway at 12.15 local time on Sunday 8 January, 05.15 GMT.