Eurasia return to Malaysia aiming for victory
Date posted on May 5, 2017 · Published by eurasiapr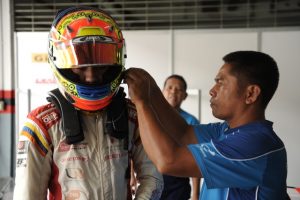 Following on from the success in the opening round of the Formula Masters Asian Series at Sepang last month, Eurasia Motorsport return to the same venue for round two of the championship this weekend (5-7 May, 2017) seeking further podium position.
Danial Nielsen-Frost is second in the championship courtesy of three second-place finishes and has been busy keeping himself race sharp between the rounds with some karting. Teammates Isyraf Danish and Kurt Hill also showed great promise in the opening round and will be seeking strong results.
"We are really looking forward to this weekend's Formula Masters event at Sepang," said Team Principal Mark Goddard. "Danial was close to winning two races in the first event and he certainly be competitive again this week.
"Isyraf started on pole in round two and he also demonstrated he is a potential race winner. Kurt is improving every time he sits in the car and we expect to be challenging for a podium finish very soon. This is shaping up to being a classic season and we are very happy to be in the mix."
Eurasia Motorsport are also fielding a car in the Asian Le Mans Sprint Cup in the CN class.
"We are happy to have Douglas Khoo in the Ligier CN car this weekend and he will benefit from having one of the fastest local drivers around sharing the car. Dominic Ang will provide great data for Douglas and I am sure team and drivers are going to enjoy the experience."