Date posted on December 4, 2016 · Published by eurasiapr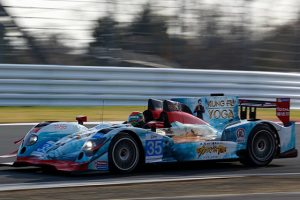 Hot off a double victory last time out Zhuhai, Eurasia Motorsport had to be content with a double podium finish today (4 December 2016) in the second round of the 2016/2017 Asian Le Mans Series at Fuji.
In a tense four-hour endurance event, Gustavo Menezes guided the #35 Jackie Chan DC Racing Oreca 03R Nissan to the chequered flag in second position having managed a race-long misfire that cost the team three-seconds a lap and forced fuel stop with just eight minutes remaining.
Menezes took the final stint of the race after teammates Ho-Pin Tung started from second place on the grid, leading early on and handing over to Thomas Laurent who battled hard against eventual race winner Race Performance.
"It was a decent result all things considered," stated Team Principal Mark Goddard. "We really had to manage the misfire closely from lap 20 (of 137). We were losing time, but perhaps more importantly, we were using more fuel than we would have liked and that meant we had to pit right at the end. Thankfully we had a big enough gap to the third-placed car and Gustavo was able to bring the car home in second position."
Eurasia also secured third place in the LMP3 category with Hiroki Yoshida, James Winslow and David Cheng taking advantage of a rivals' tyre issue to secure the final podium position in the #1 Jackie Chan DC Racing Ligier. However, as the team celebrated the double podium, things did not go so well for Aidan Read, Scott Andrews and Williams Lok in the #99 WinEurasia Ligier as a fuel pickup issue compromised the race from the outset.
Having qualified in fifth position, Read took to the start but almost immediately reported a problem back to the pits. The team lost time before pitting for extensive repairs before finally calling it a day after 59 laps.
"It was a shame that we never really got the #99 car up to speed," said Goddard. "The fuel issue meant we were off the pace and despite the best efforts of the WinEurasia team, we had to retire the car. It was a shame for Aidan, Scott and William, but these things happen in racing and we'll aim to bounce back next time out in Thailand."
The Asian Le Mans Series reconvenes 6-8 January 2017 at Buriram, Thailand.