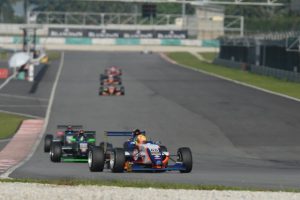 Eurasia Motorsport embarked on another season of the Formula Masters Asia Series where they have enjoyed so much success in the past and immediately sent out a message to its rivals that once again it had the machinery and drivers to deliver a title challenge.
On a weekend when two former Eurasia trained drivers were competing in the Chinese Formula One Grand Prix – Daniel Ricciardo and Antonio Giovinazzi – Eurasia's latest recruits, Kurt Hill, Isyraf Danish and Danial N Frost were on the grid in Sepang delivering podiums and promise that could send them in the same direction as their illustrious predecessors.
The new format for the series, which sees 18 races in five racing weekends across Asia, saw four races in Sepang this weekend and Singaporean driver Daniel N Frost proved to be the team's top performer with three second-place finishes – in addition to a fourth – in what was an impressive debut with the team, including pole position for the first race.
Kurt Hill was unlucky to go off in first qualifying consigning him to a back row start for race one but he drove well to finish in seventh place. A solid eighth place in race two was followed by a non-finish in race three avoiding a spinning car on the first lap. He bounced back to finish sixth from last on the grid in the final race demonstrating his true potential for the future.
Isyraf Danish was given a drive through penalty for a false start in race one but was able to grab pole position for race two by setting the fastest race lap. However, a stall at the start saw him finish the first lap last and he went on to finish in eighth place. Race three saw him involved in the same accident as his team mate but he bounced back to finish seventh in the final event, under a second separating fifth to eighth paces at the flag.
Mark Goddard, Team Principal and coach for the drivers this weekend, remarked on his new class of 2017. "I have to be pleased with our weekend in Sepang," he said. "In Danial, we may have a real contender for the series based on what he showed this weekend and I am really looking forward to working with him this season to help where we can to develop his obvious talent.
"Kurt has been testing with us over the winter and will be potential race winner, as he develops over the coming races. Danish did only one day of testing with us, so his performance this weekend was especially noteworthy. In fact, I'd be surprised if all three drivers don't take turns on the top step of the podium as it looks like we have three very promising drivers with us this year."
Formula Masters Asia Series continues with a further outing at the Sepang F1 circuit on 5-7 May.